Friday – Sunday   |   September 30-October 2, 2022

 Friday, September 30, 2022
6:00 AM                         –    Travel Time
9:00 AM – 12:00 PM    –    Registration/ Campsite Setup
12:00 – 1:00 PM           –    Lunch
1:00 – 5:00 PM             –    Camporee Activities
5:00 – 7:00 PM             –   Supper and Preparation/ Camp Inspection
7:00 -8:30 PM              –    Worship/ Opening Ceremonies
8:30 – 11:00 PM           –    Afterglow
11:00 PM                      –    Lights out
Sabbath, October 1, 2022
6:00  – 7:00 AM          –    Wake up Time / Personal Devotion/Preparation
7:00  – 8:00 AM          –    Morning Worship/ Flag Raising/ Exercise
8:00  – 9:00 AM          –    Breakfast / Personal Preparation
9:30  – 10:30 AM        –    Sabbath Activities/ Honours
10:30 AM-12:30 PM  –   Worship Service
12:00-1:30 PM           –    Lunch
1:30- 5:00 PM            –    MG Pioneering Village/ Sabbath Activities/
Honours
5:00-6:30 PM             –    Dinner/ Personal Preparation
7:00- 9:00 PM            –    Flag Lowering/ Evening Worship
9:00-10:30 PM           –   Campfire Activities/ Storytelling
10:30-11:00 PM         –   Personal Time
11:00-PM                    –   Lights Out
Sunday, October 2, 2022
6:00  – 7:00 AM          –    Wake up Time / Personal Devotion/Preparation
7:00  – 8:00 AM          –    Morning Worship/ Flag Raising/ Exercise
8:00  – 9:00 AM          –    Fire and Pancake Event / Breakfast
9:00 AM – 12:00 PM  –    Camporee Activities/ OMG Extreme Challenge
12:00-1:00 PM           –    Closing Ceremonies/ Flag Lowering
1:00-2:00 PM             –    Lunch/ Break Camp
2:00 PM                      –    Homeward Bound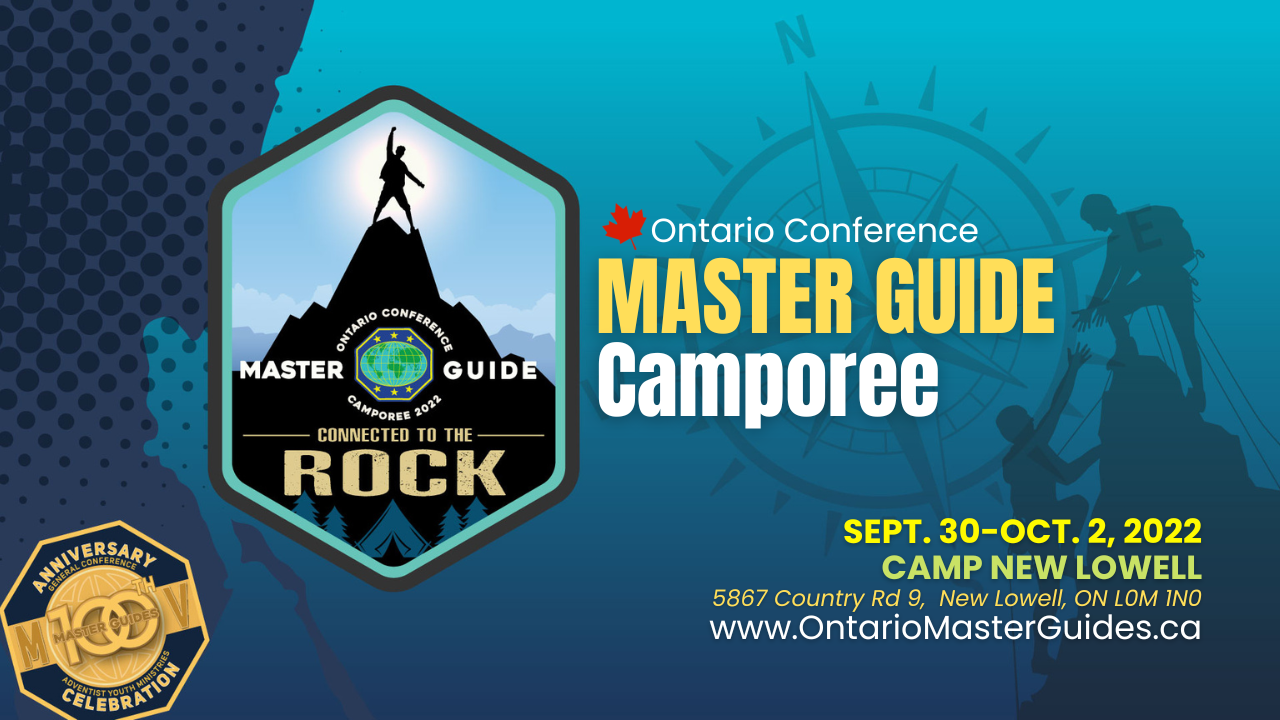 Registration Fee/person: $50.00
Child Care is available for children aged 4 and older. Fee: $25.00/child
Deadline for Registration: August 31, 2022
This MG camporee is open to all Master Guides, MG Trainees, Adventurer and Pathfinder leaders, pastors, teachers, and church leaders who are passionate about mentoring children and youth through AMP and Youth Ministries.
MG Camporee Standing Orders (Planning Guide) will be posted soon.
#MasterGuideCamporee2022 #ConnectedtotheRock #OntarioMasterGuides
PASTOR ROGER WADE    |    Communications & Public Relations Director, South Central Conference of Seventh-day Adventists
Roger R. Wade has a passion for the church's most precious resource -­‐ the youth. He has worked in Youth Ministries for the past 42 years leading out as AY leader to Union Youth Director.  Since his call to the organized church in 1998, he has served the Northeastern, Southern California, Southwest Region, South Central conferences, and Mid-America Union; and as of April 1, 2021, began serving as the Communications & Public Relations Director for South Central Conference.   As a duly ordained worker of the gospel ministry, through the power of the Holy Spirit, God has used him to date to baptize over 850 persons.  He teaches, preaches, writes, as well as produces and coordinates many large meetings and events. His recent joy is being one of the hosts on the Pastors' Round Table – a weekly online show where discussions deal with ministry being relevant, resourced, and real.
Married to the former Lorraine Lawrence of Neptune, New Jersey, they have one young adult son: Anthony Roger Richard Wade.